WELCOME!

WE HAVE KITTENS!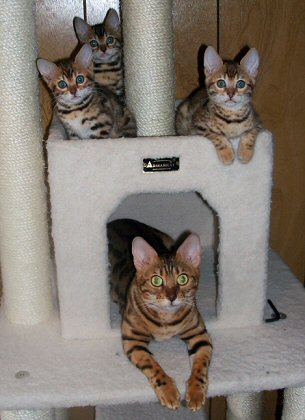 Oklahoma Bengal Breeder: I love raising Bengal Cats here in Oklahoma. Bengal Manor was established in 2005 and began with two queens and one male. We've expanded a bit since then, and now have two males on site, and 3-4 females at any given time. We never have more than 2 breeding males or 4 breeding females on the premises. Our goal is quality, not quantity and having any more compromises our ability to provide a healthy, loving environment for our cats. We're located on five acres about twenty minutes from the heart of Oklahoma City, and fifteen minutes from Midwest City, Moore and Norman.

Our two resident males are housed in their own 'cat house,' complete with heat and air. They have each have a 6x10 foot run that opens out on to a raised deck that is completely shaded in the summer months. The 'breeding girls' live in the "cat room" in the house, where they deliver and raise their kittens. Any young 'upcoming' girls have the run of the house with our two permanent residents, Misty and Clare. Once our breeding girls reach the age of four, they are spayed and placed in homes where they can live out their lives as loving pets, having made their contribution to our breeding program.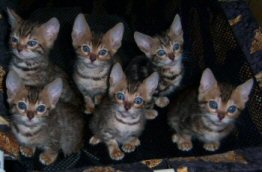 Bengal Manor has partnered with Chalk Mountain Bengals in Texas. Because of this partnership we've expanded our breeding pool of cats enabling us to increase our advancements toward improving the breed. Both catteries go to extremes to insure our breeding cats are genetically sound, which includes scanning their hearts for Hypertrophic cardiomyopathy (HCM).

All kittens come with a health guarantee, have been to the vet for their first round of shots, are parasite free, and our contract states they must be spayed/neutered by the age of six months, no exceptions. They are raised in the home and are litter trained, and go to their new homes between the ages of 10 to 12 weeks. All kittens are registered with The International Cat Association (TICA).

I breed my girls to produce the best possible Bengals to love and show. And, since I intend to keep the number of cats I own, to the bare minimum, others can benefit from the fruit of my girls' labors, so to speak. So please, visit our site often to mark our progress and to see if we have a Bengal kitten for you, or from time to time, a retired Queen to place in a good home. I'm planning on having a blast with my Bengals, why don't you come along?

*****Important Notice*****

Bengal Manor was established in 2004. Any other cattery using a variation of Bengal Manor is in no way affiliated with our cattery. We take pride in the health of our lines so when researching pedigrees please take this into consideration. Our cattery name is simply Bengal Manor, not Bengal Manor XXX or Bengal XXX Manor.
Contact info:

Deborah Keith
Oklahoma City Metro Area
Cell: (405) 517 4383
devdebi9@yahoo.com



Yolanda Holecz
Bengalmanor East
Pennsylvania




---

This site and all contents including but not limited to original photography and original graphics are the sole property of Deborah Keith and Bengal Manor. Not for reproduction or distribution. Content may not be used in whole or in part without express written permission of the site owner.