KINGS
BIG ANNOUNCEMENT!!!



Bengal Manor, has leased a new male!



CHAMPION LEOSPRIDE STRYKER of LUNAKATZ "Stryker" Breeding)



"Stryker" comes to us from breeder Tracy Deluna of Lunakatz Bengals in Colorado Springs. We sent Champion Bengalmanor Lady Josellyn to Stryker and they produced our girls Bengalmanor Strykes Glitter N Gold and Bengalmanor Lady Strykes A Pose. We are looking forward to producing more exciting kittens in the future. Thank you so much Tracy for trusting us with your beautiful boy!




A-KERR'S IMA MARKED ONE OF CHALKMTN ("MARCO" Show/Breeding) Heart scan "Normal" July 23, 2017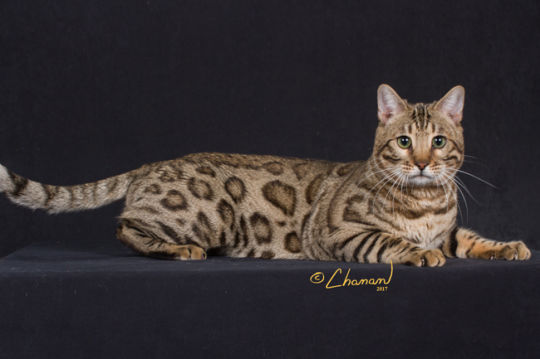 His sire is Champion Akerrs Ima Lookin Even Better. His dam is Akerrs Marleina.
"Marco" comes to us from breeder Samantha Kerr. Thank you so much Sam, and thank you Dana Zauf, for collaborating with us to acquire this new boy. Due to space limitations, "Marco" lives at Chalkmtn Bengals in Texas, but Bengalmanor girls will be visiting him in the near future. Marco just championed at a show in Ohio!!! He's off to a great start.




DOUBLE GRAND CHAMPION KAJARI'S LORD BYRON OF BENGALMANOR
(Boomer - RETIRED) Click on name for pedigree.
HCM NEGATIVE April 26, 2009 at age 1, April 24, 2010 at age 2, April 29, 2011 at age 3.















Boomer was sired by Champion Calcatta's Shooting Star and is out of Kajari Firestorm.

He has a clear coat with amazing rosettes. A big teddy bear, he was a delight to take to the show hall. He never complained about going to the judges rings, and was very well behaved when handled by the judges. Boomer was quite the ladies man even spending one summer "on tour," visiting two other catteries. He is quite the talker, and gives me a daily report on what's happened while I was away. Boomer grandaughters are still producing for both Bengalmanor and Chalkmtn.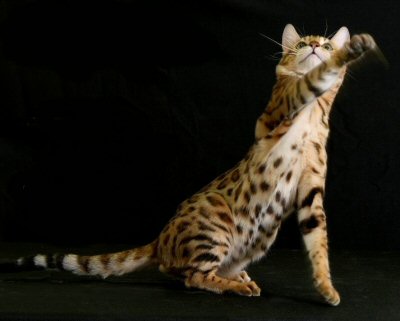 "Boomer" Championed at the Heart of Texas show in Waco. He picked up four finals at the Wichita, Kansas show, and another three at the Ft. Worth show, including a second best cat, and earned his Grand Champion title.

Boomer earned enough points to complete his Double Grand Champion Title in Waxahachie, Texas, including a BEST CAT in Bobbie Tullo's ring! He has enough finals for his Triple title, but was shy a few more points. His show career ended due to his busy breeding schedule.

Boomer produced awesome kittens with stunning rosettes and passed on his size and temperment as well. (Pictures by Degenkolb)

BOOMER IS NOW RETIRED!!! Thank you Booms, for all your hard work! Boomer is now a permanent member of my household!


---

This site and all contents including but not limited to original photography and original graphics are the sole property of Deborah Keith and Bengal Manor. Not for reproduction or distribution. Content may not be used in whole or in part without express written permission of the site owner.