QUEENS


CHAMPION BENGALUVRS LADY ZIA of BENGALMANOR (ZIA)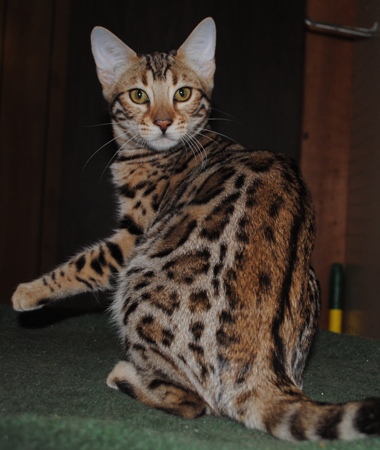 Zia is out of DGC BENGALUVRS SUNRISE GLOWS and sired by GRC AMAZONTW ADONIS OF BENGALUVRS. She has the sweetest tempermanent and her pattern is unlike any of the other cats here at Bengalmanor. Zia was shown at the Red River Rascal show in October and brought home her very first final. Here's hoping she will continue to win throughout the 2016/2017 show season and at some point follow in her parents footsteps and bring home a few titles. Thank you Sue Turachak, for such an awesome girl!

UPDATE: Zia is now a CHAMPION!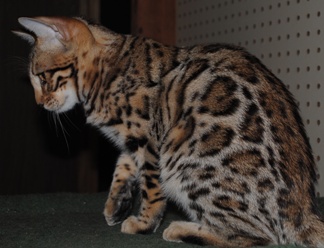 BENGALMANOR STRYKES GLITTER N GOLD (BLONDIE)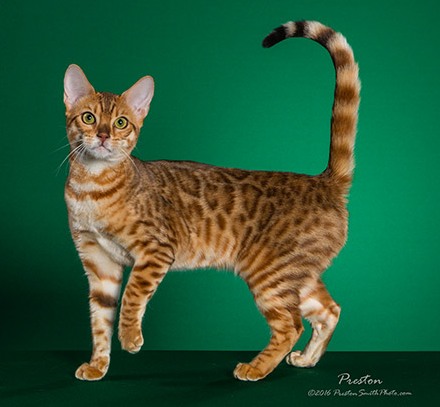 Bengalmanor Strykes Glitter N Gold is out of our own Champion Bengalmanor Lady Josellyn and sired by Champion Leospride Stryker of Lunakatz. She has oodles of red in her plush coat and has the sweetest tempermanent. She went Best of Breed Kitten in a ring at the Waco show Valentine's Day Weekend, and then went on to pick up a final! She handled showing quite well for a five month old. Very proud of her! She has received several division placing since becoming an adult. Blondie produces beautiful babies and we're looking forward to seeing more of her offspring in the future.




















BENGALMANOR LADY STRYKES A POSE (POSSUM)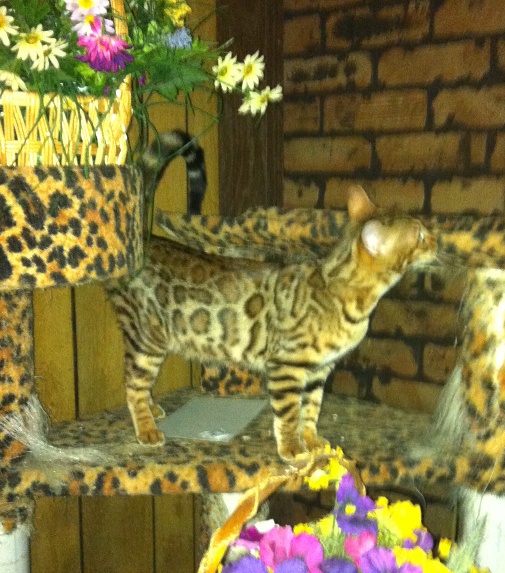 Bengalmanor Lady Strykes A Pose is out of our own Champion Bengalmanor Lady Josellyn and sired by Champion Leospride Stryker of Lunakatz. She is a full sister to Blondie but she was not interested in becoming a show cat. Her coloring and pattern are completely different from Blondie and we are equally as excited to see what she will produce here at Bengalmanor. We are very excited to see what she will produce with our new boy from Russia!.
































REGIONAL WINNER, SUPREME GRAND CHAMPION ALTER, CHALKMTN LADY IZZABO of BENGALMANOR (RETIRED)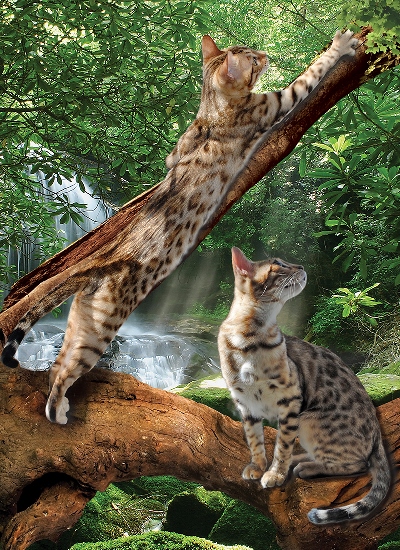 Izzy is stunning! Out of Boulderbengals Miranda of Chalkmtn, sired by GRC Bengalmanor's Lord Catsby of Chalkmtn, she is a truly beautiful girl. Izzy is a product of the combined breeding programs of Bengalmanor and Chalkmountain.

Izzy is quite the character. Constantly looking for something to get into, and nothing comes into the house without her inspection. Every grocery bag must be checked out before the contents are put away. She's always underfoot and interested in everything that goes on here at Bengalmanor.

UPDATE: Izzy won Breeder's Choice Award for Best Bengal Kitten Eyes, as well as, 3rd Best Bengal Kitten at ON SAFARI 2015! She won her Champion title at her first adult show competing against big males at the Thunderkatz show in April. We are very proud of our little girl!!!

UPDATE: Izzy was spayed in August and in September came home with 7 finals from the Kansaskatz show earning her the title of Triple Grand Champion Alter. In October she brought home 11 finals from the Red River Rascals show, including 3 Best Alter awards which earned her the title of QUAD GRAND CHAMPION ALTER! We are pretty sure she is only a few points shy of her SUPREME title which we hope she will earn next month at the Waxahachie show. Here's hoping!!!!

UPDATE: Izzy has done it! It's official, she is now a SUPREME GRAND CHAMPION! Our little stinker has done us proud. Izzy is Chalkmnt Bengals first Supreme! Thank you Dana Zauf, for knowing she was special the minute she was born. Izzy is the result of Chalkmtn Bengals and Bengalmanor working together to produce quality Bengals. Here's to our continued success with our breedings and in the show halls!

UPDATE: IZZY is now a REGIONAL WINNER!!! She is the 19th BEST ALTER in the South Central Region! She also got an award for being the SECOND BEST BENGAL ALTER in the South Central Region. We will receive her awards at the SC Banquet in Cleborne, Texas in August. We are so proud of our girl!!! She is so special!





CHAMPION BENGALMANOR'S LADY JOSELLYN (Jessie)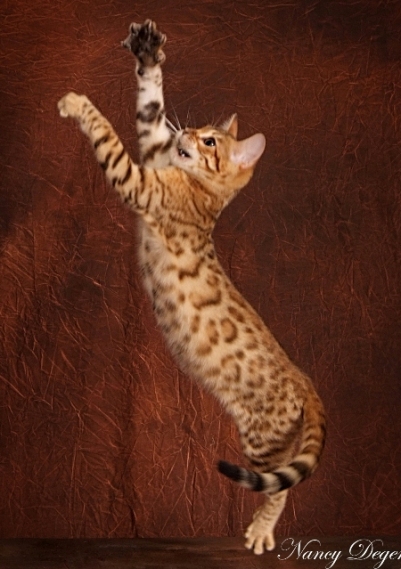 Jessie is another home grown girl that we're very proud to have produced. Sired by Double Grand Champion Kajari Lord Byron of Bengalmanor (Boomer), and out of Chalkmtn's Lady Kissa of Bengalmanor (Kissa). She has oodles of color and a soft plush coat, square muzzle, small ears and is a typical Bengal girl, full of energy and mischief. Jessie's Mother, Kissa, only produced four kittens, two males and two females. Both girls are in breeding programs, Jessie is here at Bengalmanor, and her sister at Chalkmoutain Bengals. Kissa did not like cattery life so she was spayed and put in a pet home but her daughters will carry on for her in the future.

Jessie showed at Oklahoma City as a kitten then CHAMPIONED at her first adult show in Amarillo in August of 2013, beating out large males in her ring! Quite an accomplishment for an eight month old girl! We are extremely proud of our Jessie! She was a trooper, sitting up at the front of the judging cage presenting herself as a confident girl, showing her stuff! The boys didn't phaze her. Photo by Degenkolb.

UPDATE: Jessie is back home after visiting Chalkmtn Bengals and is cohabitating with Stryker, repeating the breeding that produced our two girls, Possum and Blondie! Sadly for us, this will be her last litter. It's time for her to go be a pet!




















KAJARI SYRENEMYST OF BENGALMANOR (Misty - RETIRED) Click on name for pedigree.
HCM NEGATIVE April/2010 at Age 6. Misty is now 12 and in perfect health.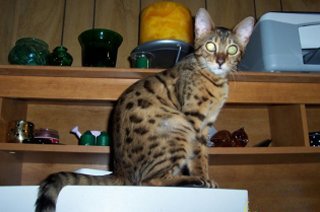 Our foundation Queen, Misty is by TGC BISHOPSBENGALS APACHE of KAJARI out of GOGEES CHEYENNE of KAJARI. Born August 15, 2004, she a golden bronze spotted Bengal with oodles of glitter. Bright, inventive and sometimes annoyingly attentive, I compare her to a two year old child. If it gets too quiet in the house, I know she's up to something. Misty produced some of the most stunning marbles I have ever seen. She was bred to the same sire 5 times, Ch. Wildream Ransom Happy. At the Tulsa show several years ago, two of her marble kittens championed at 8 months, Ch. Bengalmanor Rhett Butler owned by Chelsie McIntire and Ch. Bengalmanor Calamity Jane. In April, another of her offspring picked up three kitten finals at the OKC Thunderkatz show, Bengalmanor's Mister Darcy. Misty had gone above and beyond her call to duty so she has retired at the ripe old age of four. She was the first Bengal I purchased. Now, at nearly 13 years old she rules the house with an iron paw!!! She is a permanent member of my household.
---

This site and all contents including but not limited to original photography and original graphics are the sole property of Deborah Keith and Bengal Manor. Not for reproduction or distribution. Content may not be used in whole or in part without express written permission of the site owner.