NEWS
August 2014

A lot has taken place since I updated our news page. We lost our beloved Mouse in October of last year. His presence is still missed here every day. He's buried right in front of the cat house so we walk past him several times a day, keeping him close to our hearts.

We've added two males to our cattery, one on premises and one off. Chalkmtn Royal Baron of Bengalmanor joined us a couple of years ago and he keeps Boomer on his toes. Any time I come outside with a crate, both boys do their best to talk me into bringing them a girl for breeding. The other new boy is Bengalmanor's Lord Catsby of Chalkmtn. Toby, as we call him, lives with our sister cattery in Glen Rose, Texas.

We've retired some of our queens and have new ones, constantly working to improve our kittens.

We're working hard to build a second cat house, this one for our breeding queens. We hope to clear a spot for the building within the next couple of months. There are a lot of things that must fall into place for this to happen but it's looking better as the weeks pass.

We haven't shown many cats this year, but haave been very active with our local cat club in putting on several shows. This month we hosted the South Central Regional show, just 3 months after our annual show this year. Talk about an experience. : )



October 2010

Our little Claire has been really busy these past two months!
At the KansasKatz show, Sept 18th-19th, she picked up 2 finals. She went 10th Best Kitten in Nancy Parkinson's All Breed ring. She also went 4th Best Kitten in Adriana Kajon's All Breed ring.
At the Witcha Falls show, Oct 15th-17th, she picked up 4 finals. On Sunday, she went 10th Best Kitten in Nancy Parkinson's All Breed ring. On Saturday, she went 8th Best Kitten in Ann Hoehn's All Breed ring, 5th Best Kitten in Nancy Parkinson's Specialty ring and Best Kitten in VickiJo Harrison's specialty ring.
We are very proud of our homegrown girl and look forward to her future accomplishments.
September 2010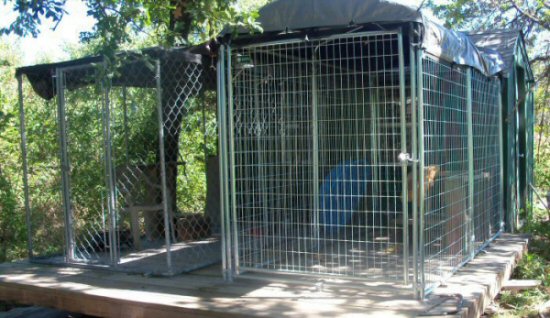 Bengal Manor's stud house is fully functional and is Boomer's (DGC Kajari's Lord Byron of Bengalmanor) permanent home. The 8X12 building is heated and Air Conditioned with pet doors that allow easy access out to the 6 x 10 runs that sit atop the 14x12 foot deck. The two outside pens have a two and a half foot space between the two pens for safety. Inside the building there are two completely separate pens that don't even allow the cats to see each other should they need to be confined indoors. There is also enough space inside for an additional pen for visiting queens. We have a free standing laundry sink that will soon have the water connected, and plan to install a small water heater so we'll have hot water for bathing cats.

The outside cages are bolted to the deck and are covered. The cats have food and water inside the building and another water bowl in the outside pen. All food is inside to keep from attracting flies and other unwanted critters. Boomer's outdoor pen is actually an American Kennel Club dog pen which is a much better quality than our second pen which is just a standard chain link pen. We hope to eventually replace it with another AKC pen like Boomer's, but it will do the job for now. We will keep you posted on our "Bengal Manor," so check back often to check how we're progressing.




August 2010
Boomer is back home from his vacation in Texas, and when he came home he brought some new girls with him. Bengal Manor has it's first snow queen, Chalkmtn Lady Kissa of Bengalmanor. Kissa has fit right in and already is best pals with two of our younger girls. Kissa will be co-owned with our good friend Dana Zauf of Chalkmtn for the duration of her show career which begins with the South Central Regional Show this month.

Also joining us here at the Manor is Chalkmtn Royal Diva of Bengalmanor. Diva is pretty special to us as she is the product of combining the Chalkmountain and Bengal Manor bloodlines. Her sire is Ch. Bengalmanor's Royal Kopa of Chalkmtn, littermate to our own Ch. Bengalmanor's Lady Katherine Deburgh. Her dam is Chalkmtn Princess Bellini. We can't wait to see what Diva and Boomer will produce for us next year.


March 13, 2010
DGC Kajari Lord Byron of Bengalmanor (Boomer) has been vacationing in Texas, but is coming home next weekend, just in time to begin getting ready for the Oklahoma City Cat show April 24-25 at the Oklahoma City Fairgrounds. He'll be there along with his favorite girlfriend, Champion Bengalmanor's Lady Katherine DeBurgh (Katie), and his daughter Bengalmanor Boomers Sooner (Sooner). Why don't you come out and meet them in person. We'll be easy to find, we'll have a big banner hanging on the bottom of our benching cages that says "BENGAL MANOR." We'd love to meet you!!! Come say hello!


May 26, 2009
OHMY TEE MOUSE OF BENGAL MANOR SUPREMED at Kansaskatz, his very last show. We want to thank our two very best friends who helped us along the way... Richard Hummel and Becky Walker, who kept cheering us on. We're going to miss you guys! Mouse is now going to kick back, relax and help raise the babies. He is my best buddy and will remain so for the rest of his days.


October 6, 2008
QGCA OHMY TEE MOUSE OF BENGALMANOR tied for SECOND BEST BENGAL ALTER at ON SAFARI 2008!!!


September 10, 2008
We're building a stud house. Bengal Manor is expanding. We're bulding an 8'x12' structure to house our two males and will have room for visiting girls. The building will have 2 outdoor runs for the boys and is heated and has A/C as well as running water. We hope to have it completed by spring


June 25, 2008
TGCA OHMY TEE MOUSE OF BENGALMANOR is the SECOND BEST BENGAL ALTER OF THE YEAR in the South Central Region! We are so proud of our boy!


June 15, 2008
On June 14, in Ft. Worth, Ohmy Tee Mouse of Bengalmanor became a Quad Grand Champion Alter in Vickie Jo Harrison's ring. Mouse has come a long way since we started showing and we're very proud of him. My extended family helped him achieve his titles. I want to thank my neice and partner in Bengalmanor, Chelsie, for helping get Mouse to his rings on time. And when either I or Chelsie couldn't get him there, my cousin Renee, and her son Macon were our backups. Cat showing is a wonderful hobby and one the entire family can enjoy, my family is a testament to that.

Mouse's sister Gynger, owned by Chelsie, picked up a final as well at this same show, while Lady Emma, owned by Macon, held her own with several division placings in a huge (33) HHP class.


June 10, 2007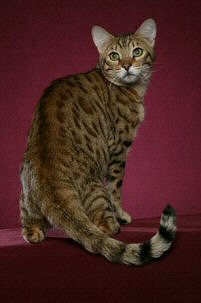 OHMY TEE MOUSE of BENGALMANOR is now a DOUBLE GRAND CHAMPION!
He did it, he got the final he needed to double grand at the Ft. Worth show June 9th. We can't be more proud of our Mouse. He has surpassed all our expectations and anything else will just be icing on the cake. Unfortunately, we're retiring our beloved "Mister Mouseman" at the OKC show in April. His health is still an issue and although he LOVES showing, it's just too much for him. Come by and see us at the Thunderkatz show and have a piece of cake.
May 1, 2007
OHMY TEE MOUSE of BENGALMANOR is now a GRAND CHAMPION!
Our beloved Mouse received 3 finals this weekend at the Oklahoma City Thunderkatz show and is now a Grand Champion. Little Allie (OhMy Alexandria of Bengal Manor), received her first final and Championed, and Bengal Manor Mister Darcy received 3 finals in the Kitten classes. It was a great show!!!

10-17-2006
BENGAL MANOR HAS TWO MORE CHAMPIONS!
This past weekend in Tulsa, Bengal Manor's Rhett Butler owned by Chelsie McIntire was 4th Best Alter in Robin Sessler's ring, giving him enough points to Champion. Also, Bengal Manor's Calamity Jane, owned by Chelsie McIntire, was 6th Best Cat in Susan Lee's ring, earning her enough points to Champion. These two are litter mates, the offspring of Kajari's Syrenemyst of Bengal Manor and My Wildream Ransom Happy of OhMy.

7-15-2006
BENGAL MANOR HAS ANOTHER CHAMPION!!!
Ohmy Tee Mouse of Bengal Manor championed at the South Central Regional Show in Arlington, Texas on July 15, 2006 under judge Marylou Anderson. You can see Mouse on the Kings page.

Bengal Manor Rhett Butler (Gizmo).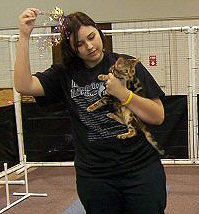 Gizmo was TENTH BEST KITTEN at Arlington and completed two more clean runs on the ICAT Agility Course. One more clean run at another show and he'll have his ICAT AGILITY CERTIFICATE. Once again Gizmo attracted crowds at the agility course and was asked to return for a photo op. Gizmo's Mom, Chelsie McIntire, was interviewed by a reporter for a local newspaper. She explained how Gizmo was competing in both the cat show and trying to get his agility certificate. Our Gizmo is a multi-talented kitten!!!




---

©2011. This site and all contents including but not limited to original photography and original graphics are the sole property of Deborah Keith and Bengal Manor. Not for reproduction or distribution. Content may not be used in whole or in part without express written permission of the site owner.