KITTENS AND AVAILABLE ADULTS
405-517-4383


ALL KITTENS HAVE BEEN HOMED!




CHAMPION BENGALMANOR'S LADY JOSELLYN (Jessie) RETIRED!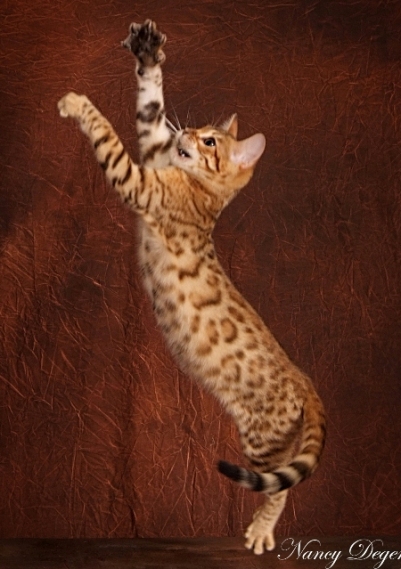 Jessie is another home grown girl that we're very proud to have produced. Sired by Double Grand Champion Kajari Lord Byron of Bengalmanor (Boomer), and out of Chalkmtn's Lady Kissa of Bengalmanor (Kissa). She has very interesting color and a soft plush coat, square muzzle, small ears and is a typical Bengal girl. Jessie's Mother, Kissa, only produced four kittens, two males and two females. Both girls were placed in breeding programs, Jessie at Bengalmanor, and her sister at Chalkmoutain Bengals.

Jessie showed at Oklahoma City as a kitten then CHAMPIONED at her first adult show in Amarillo in August of 2013, beating out large males in her ring! Quite an accomplishment for an eight month old girl! She was a trooper, sitting up at the front of the judging cage presenting herself as a confident girl, showing her stuff! The boys didn't phaze her. Photo by Degenkolb.

Jessie has now retired from breeding. Her last litter of EIGHT have all gone on to their new homes and Jessie has been spayed. She is ready for her new forever home. Jessie is a very sweet girl and would probably prefer a quiet home where she can receive lots of attention in the years to come. If you are interested in providing a special home for this wonderful girl, give us a call. 405-517-4383. Jessie was an outstanding Mother and now it's time to reward her for the hard work. She deserves a wonderful loving home for the rest of her life.







Champion Bengaluvers Lady Zia of Bengalmanor will be bred early this summer, to Champion Leospride Stryker of Lunakatz, and Bengalmanor Lady Strykes a Pose will be bred to one of our Texas males.





---

This site and all contents including but not limited to original photography and original graphics are the sole property of Deborah Keith and Bengal Manor. Not for reproduction or distribution. Content may not be used in whole or in part without express written permission of the site owner.